**SCROLL DOWN TO SEE PHOTOS**
Stunning Black Sable Import/Working Line AKC German Shepherd Puppies.  
Legacy after legacy of the world's most respected and sought-after working dogs fill this world-class pedigree with the best representative of the breed.  Bomber vom Wolfsheim's DNA, probably the best-known working dog in Germany, fills the pedigree of this litter. 
Everything is here in these gorgeous puppies: Structural balance and harmony and the look you will only find in this genetic combination we have in this breeding.  
  Stella vom Spitzenhund x Ace vom Spitzenhund whelped this stunning litter on February 17, 2021.  These puppies will be strong, serious workers when it comes to protecting their homes and property.  If you are seeking a first line of defense for your family, you will have it with a Ritterhund K9.  They will bond quickly with their handler and families.  These puppies will be highly trainable from the start, and once fully trained will be able to take on any threat without hesitation.  Obedience comes naturally in these bloodlines.  Intelligence and a sixth sense of knowing what is being asked before the handler even asks is common in our pups.  
I will ask each interested customer to complete a Puppy Application to gain some insight into what it is you are looking for in a puppy and to also see if one of our puppies would be a good fit for your family.  After reviewing the application, we will speak over the phone. Adopting a puppy is a life-long commitment.   These puppies will be high drive and will require stimulation and interaction daily.  They come from strong working lines and are not the type of dog you put in a kennel or in a backyard and do not put work into.  
Puppies are Health Guaranteed, up to date on vaccinations and worming, and come with Full AKC Registration. 
​​​​​​​
Puppies can be hand-delivered at no charge if within a reasonable distance of our kennels.  We can meet partway if you live at a further distance than we customarily drive.  Air or ground shipping can also be arranged at an additional charge. 
**For COVID-19 precautions, we are asking customers to meet us at our Community Park to pick up their puppies.  Thank you for understanding.** 
Contact via text/phone at 805-219-9916 or Email at Info@RitterhundK9s.com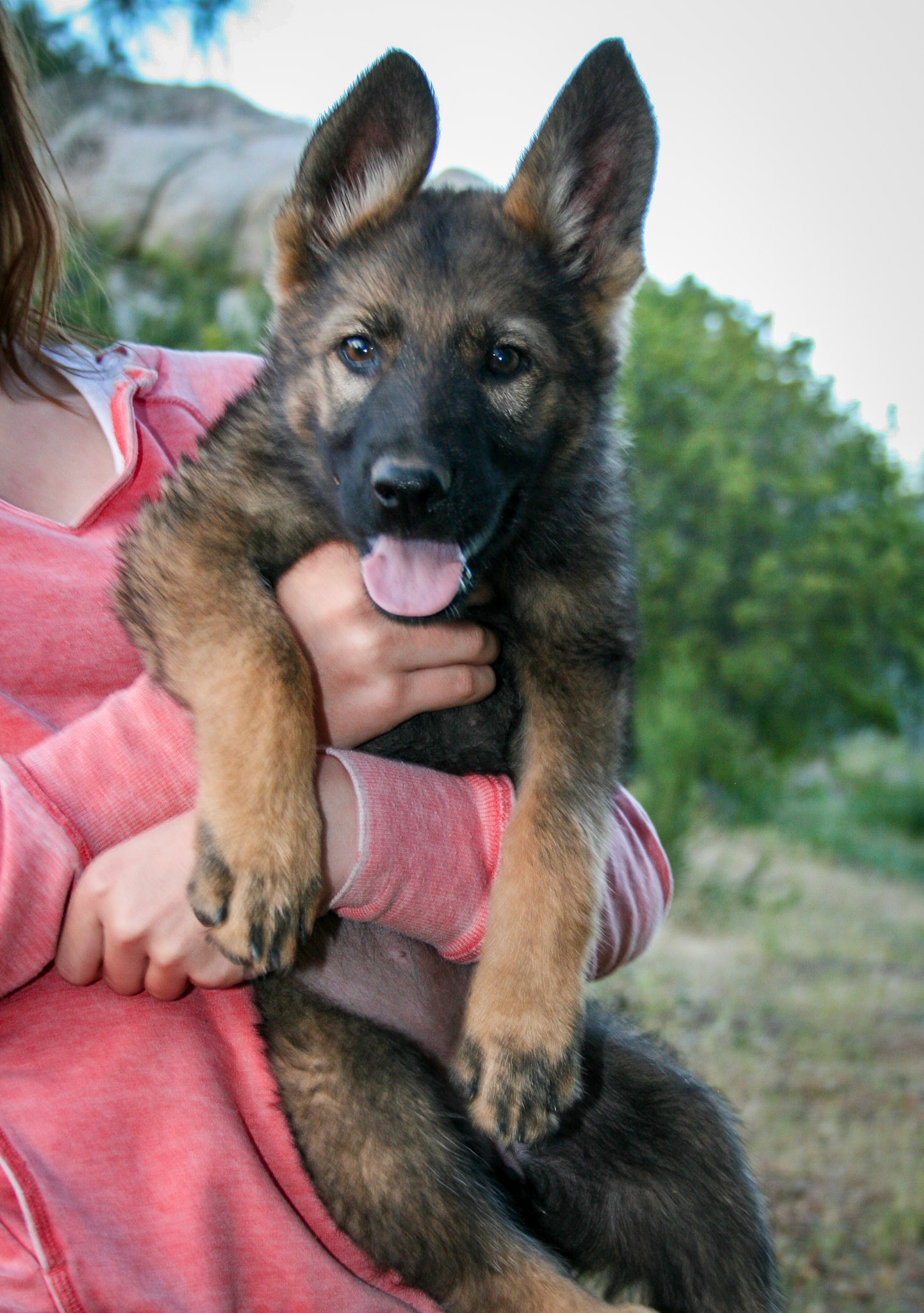 PINK Collar Female - 8 Weeks old 
PINK Collar Female - 5 Weeks old